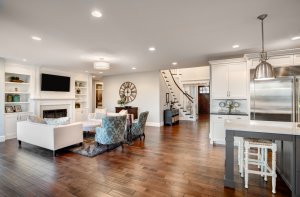 With advances in flooring materials, engineered wood flooring is becoming increasingly popular but how exactly does it differ from solid hardwood flooring? While they are both similar, they both have their own strong pros and cons that will make a difference when selecting flooring for your home.
Engineered Wood Flooring
A layered product made of a thin layer of hardwood on the top and a base of high-quality plywood.
Thickness/Width: Thickness can range from 3/8″-1/2″; Standard width are 3 1/4″ and plank sizes starting at 5″
Pre-Finished vs. Site-Finished: Most are pre-finished but some flooring companies do offer site-finished flooring
Sanding: Engineered wood flooring can only be sanded once or twice (lightly) before ruining the top layer
Installation: Easier to install versus solid hardwood flooring and has several installation methods including stapling, nailing, fold and lock, and glue
Resale Value: Since engineered flooring is made with hardwood flooring, it can be advertised as real hardwood flooring when a house is being sold so they have the same value at solid hardwood flooring
Durability: Engineered wood flooring is durable but due to it being two layers, the top layer can become chipped or de-laminated; Can hold up to limited moisture which makes it more durable
Moisture: Due to it's plywood base, engineered wood warps and flexes less when it comes in contact with moisture, making it more stable than solid hardwood flooring when it gets wet
Hardness: Depending on the top layer, your engineered wood hardness will differ; South American and Indonesian, birch, maple, and walnut are the most durable and pine is soft so it's not typically a great candidate for engineered flooring
Installation Areas: Engineered wood flooring can be installed in kitchens, powder rooms, and in basements as well as the proper precautions are taken
Solid Hardwood Flooring
A homogeneous product from top to bottom and side to side – solid hardwood flooring is nothing but hardwood.
Thickness/Width: Thickness is typically 3/4″ and the standard width starts at 2 1/4″ wide with plank sizes between 5″-11″
Pre-Finished vs. Site-Finished: Pre-finished is the decision 75% of the time and site-finished accounts for only 25% of hardwood flooring installations
Sanding: Solid hardwood flooring can be sanded several times but over the years, they can become to thin compromising structural integrity
Installation: Nailed or stapled down
Resale Value: If the hardwood flooring is in good condition, it has the same resale value as engineered flooring
Durability: Well-maintained hardwood flooring can last decades but the biggest issue with it's durability is moisture; Hardwood flooring does not hold up well after flooding or excessive moisture
Moisture: Hardwood flooring easily warps and flexes when in contact with moisture so it's not recommended for bathrooms, basements, or other areas where moisture is prevalent
Hardness: Some hardwood flooring materials are soft (Douglas Fir) but other are extremely hard (Brazilian Walnut)
Installation Areas: Hardwood flooring works best in living areas, bedrooms, hallways, and dining rooms; It's best to avoid installing it in kitchens or any place that has water prevalent (if you do install it in your kitchen, utilize a floor mat by your sink/dishwasher!)