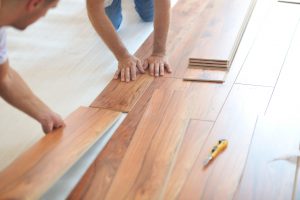 If you don't want to spend the money on hardwood floors but want to achieve a similar look in your home, laminate floors are a great alternative. They have a lower cost, high-quality feel, are extremely durable, and relatively low maintenance. But, just like everything else, it is still important to properly care for your laminate flooring in order to maintain that "just installed" look and feel for years to come.
General Care
Day-to-day cleaning of laminate flooring is relatively easy and only requires a dust mop to lift any dust or dirt away. For heavier cleaning, we suggest opting cleaning the floors with a damp mop and a mild cleaning product to lift dirt and any residue left behind from spills.
Everyday soap, detergents, and any wax-based products will leave a residue on your laminate flooring, making them appear dull. To help reduce scratches from dirt, sand, any other grit, sweep or vacuum your floors every few days!
Maintenance Tips
To keep your laminate flooring looking brand new for years to come, start by cleaning your floors regularly and cleaning up any spills right away. This will eliminate scruff and scratches from sand being brought into the house and residue from caking onto the flooring. Entrance mats will also reduce the amount of dirt that enters the home from the outdoors.
If you're laminate floors need to be replaced or you want to install laminate flooring for the first time, give Park Avenue Flooring a call today at (508) 922-2170.