A kitchen remodel can add value, aesthetic, and functionality to your home. However, there is plenty potential for remodeling to go awry, whether it be going over budget, or hating your design choices. Research is your best friend when planning your remodel – Here are some tips to make the most out of your kitchen renovation!
Establish Your Budget
First and foremost, you need to decide how much you want to spend total, and then budget accordingly. Remember to consider floors, counter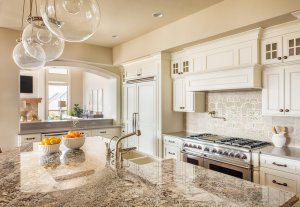 tops, cabinetry, and appliances in your budget. No matter how meticulously you plan, be sure to dedicate a portion of your budget to the unexpected – There is always potential for running into a wiring, plumbing, or structural issue.
Create a Practical Layout
Remember that kitchens should be built on practicality – Think of everyday use when you are designing your floor plan. For example, your dishwasher should be adjacent to your sink, or else there will be water drips all the way across your kitchen every time you do the dishes. You will also want plenty of counter space next to your stove top for chopping & other steps of the cooking process. If possible, create wide walkways for easy maneuvering past the cook.
Maximize Storage
Even in a larger kitchen space, it never hurts to have more room for storage. Consider installing a hanging rack for pots & pans above your island, or on your back splash to store cooking utensils. Don't forget to add shelves in your cabinets – And that you can use the space on top of cabinets for storage too!
Stick With Your Theme
If your home is a classic Victorian, you might not want to opt for an ultra-modern kitchen design- Although it would be a nice kitchen, it will not make sense with the rest of your home. With that said, make sure everything within your kitchen matches. Choose one finish for appliances so that it doesn't look pieced together, and make sure the color & texture of your cabinets, floors and backsplash all flow together.