Old and worn out floors can take away from your home's aesthetic, and worse, compromise the safety of your home. New floors can improve your home's look and functionality – Plus, the options for materials to choose from are endless! Although do-it-yourself or DIY projects can be fun, choosing this option for floor installation could end up time consuming, unsafe, and with unprofessional looking results. To ensure that your new floors are safely installed and look their best, you should consider hiring a professional flooring company.
The first & most obvious reason to hire a professional is for the sake of time and convenience. If you try to fit an entire flooring project into your already busy schedule, who knows when it will finally be complete and how long your home will be disrupted for? Professional expertise means that the project is more likely to be completed according to schedule, and that you will end up with professional quality results. Especially if you have no experience, installing your own flooring opens up the potential for mistakes, which you might end up needing a professional to fix anyway. Get the job done right the first time by hiring a contractor with proven experience.
A professional will also be able to dispose of your old flooring, which will become yet another headache if you do it yourself. Burning might be an option for some types of hardwood floors, but for carpet, vinyl, or laminate floors you will have to find an appropriate disposal method, like trekking it to a local dump. This means that you will need access to a vehicle spacious enough to move the debris, and you will likely pay a fee to dispose.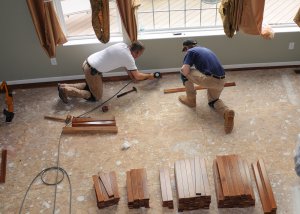 Aside from the costs of disposing of the old & acquiring new flooring, consider what else you will need to purchase if you choose to embark on a DIY project. Your project will require tools to not only properly install your new flooring, but also to remove existing floors. Even if you purchase the necessary tools, will you realistically use them again after your flooring project is complete? A professional flooring contractor will already have the proper tools on hand and will know how to use them, increasing the efficiency & outcome of your project.
When you decide your home is ready for new flooring, professional installation is the safest, fastest, & easiest way to go. Contact us at Park Avenue Flooring to receive your free pricing quote today!